Hallihallo zusammen!!!
Nachdem ich nun so lange nichts von mir habe hören lassen, kommen hier mal wieder ein paar Fotos. Ich habe eigentlich noch Unmengen an Fotos zu bearbeiten und zum Zeigen, aber nun ja im Moment ist mir das einfach alles zu viel und so liegen die meisten Fotos noch auf meiner Speicherkarte oder Festplatte und warten. Tja...aber gestern Abend hatte ich mal Lust ein paar Fotos, die ich vor zwei Wochen in der Abendsonne gemacht habe, zu sichten und teilweise zu berabeiten. Die zwei Naturfotos habe ich wieder mit verschiedenen Texturen, die ich dieses Mal sogar wild gemischt habe, bearbeitet.
~~~~~~~~~~~~~~~~~~~
Hellooo!!!
After a long time of don't writing here, I'm back to show you some photos. I have a lot of photos on my sd-card and computer that wait to be looked at and be edited. But at the moment I wasn't in the mood of doing this or of doing just something. Yesterday this changed and I wanted to edit some photos. So I chose some photos I took at afterglow two weeks ago. Hope you like them and I'm sorry that the quote is in German, I didn't find an English one fitting to the photo and my thoughts.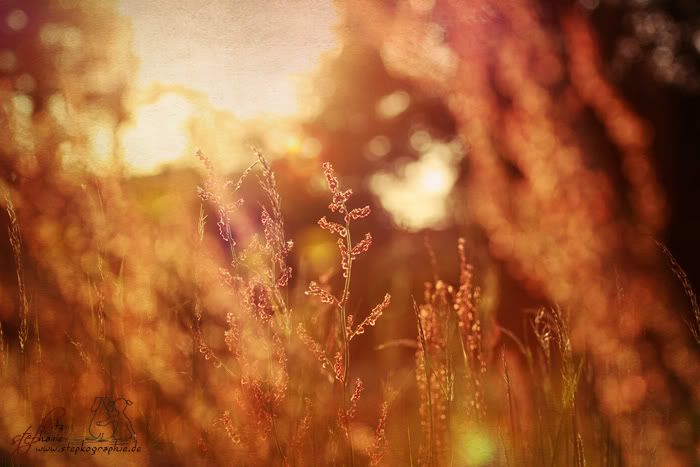 Und Gadmo, der großen Spass hatte für mich in der Wiese rumzurennen.
~~~~~~~~~~
And Gadmo, who had lots of fun running in the field for me.
Soo das wars auch schon. Ich hoffe, dass ich euch bald wieder ein paar der Fotos von meiner Festplatte zeigen kann :) Bis dahin habt eine schöne Zeit und genießt das Sommerwetter!!!
~~~~~~~~~~~~~~~
Soo that's it. I hope I will be able to show you some other photos soon :) Till then have a great time and enjoy summer weather!!!