Hallihallo zusammen!!!
Oje schon wieder so lange nicht geblogt. Das hat viele Gründe, zum einen hab ich in letzter Zeit so viel gescrapt, dass das Fotografieren der Natur und unserer Wufftis in den Hintergrund trat. Andererseits habe ich aber auch viel fotografiert nämlich im Kindergarten. Ich mache ja ein Jahrespraktikum in einem Kindergarten und hab dort nun die Erlaubnis Fotos zu machen, bzw. teilweise bekam ich auch den "Auftrag" dazu, wie zum Drei-Königs-Spiel oder jetzt zu Fasnacht. Daher habe ich hier haufenweise Fotos auf der Festplatte, die ich noch sichten und bearbeiten muss...uff....Die Fotos würde ich ja soo gerne zeigen, aber ich hab die Eltern nicht um Erlaubnis gefragt und weiß auch noch gar nicht, ob ich mich das je trauen werde ;) Nun ja bis dahin kann ich euch aber Fotos von Jule zeigen. Jule ist die süße Dackelhündin meiner "Chefin", die uns immer bei unserem montäglichen Draußentag begleitet. Neulich habne wir diesen auf einer Wiese verbracht, bei leider nicht so schönem Wetter, und da sind neben anderen auch diese entstanden...sie liebt ihren Ball, das Budeln nach Mäusen (ist ja ein Jagdhund ;) und sie bellt sehr gerne ;)
~~~~~~~~~~~~~~~~~~~~
Hello all together!!!
Oo I didn't blog for so long time again....That has different reasons. One is that I scraped very much the last days and so taking photos of nature and our dogs got in the background. On the other side I took many photos in kindergarten. I'm doing a one year long work experience in kindergarten and I'm allowed to take photos there and sometimes I have to take photos for example now at carnival. So I have here many photos, I still have to look at and edit....puh...I would love to show you these photos, but I didn't ask the parents for permission and I don't know if I will do it some time. But till then I can show you some photos of Jule, the cute doggie of my "boss". Jule attends our group every Monday, when we are outside in nature. Last Monday we were at a meadow and there I took these photos...Jule loves her ball, digging and also she likes to bark ;)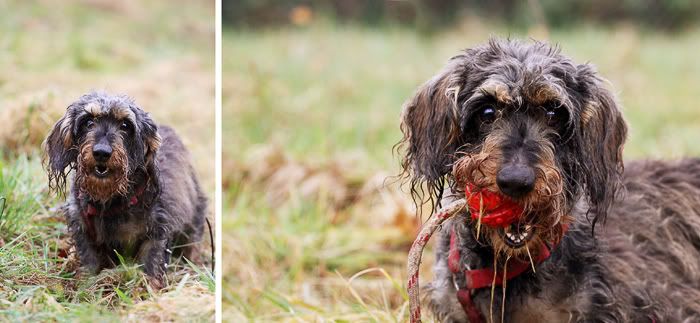 Gestern habe ich auch noch ein paar Fotos gemacht, mal schauen, ob ich die demnächst noch zeigen kann. Bis dahin ein schönes Wochenende euch!!!
~~~~~~~~~~~~~~~~~
Yesterday I took also some photos, maybe I will show them during the next days... Till then have a great weekend!!!!