Hallihallooo!!!
Ich hab bei
my4hens
eine tolle Challenge gefunden und möchte mit diesem Beitrag hier mitmachen. Deshalb und damit der Eintrag nicht so lang wird, schreib ich jetzt einfach mal nur in Englisch. Bald gibt's wieder neue Fotos und mehr "deutschen Text" :) Das Foto ist von Dakini und Gadmo, also Gadmo noch ein Welpe war und es ist eins meiner Lieblingsfotos.
~~~~~~~~~~~~~~~
Hellooo!!!
At
my4hens
I discovered that she is hosting now challenges from time to time and I really love challenges. It's always a great thing to get creative and I also love to browse the other entries. For this challenge the theme was "inspiration". I thought a very long time about what inspires me. There were so many things that came directly in my mind, because I think inspiration is just everywhere around us. If you just really open your eyes and begin to "look" then you will see all the beauty around us and your mind will begin to fly higher and higher :)
As there are so many inspiring things, I thought about, what is my biggest inspiration. And I think mine are our doggies and nature. I just love to walk with them outside and discover everything. My doggies show me almost always the most beautiful places and I can see how light plays in their hair...awww..amazing :) I just love them. And so my photo is one of my all time favourites. I love sunsets and I love my doggies and both nature and dogs inspire me a lot. So my photo is showing "the first kiss" of Dakini and Gadmo :)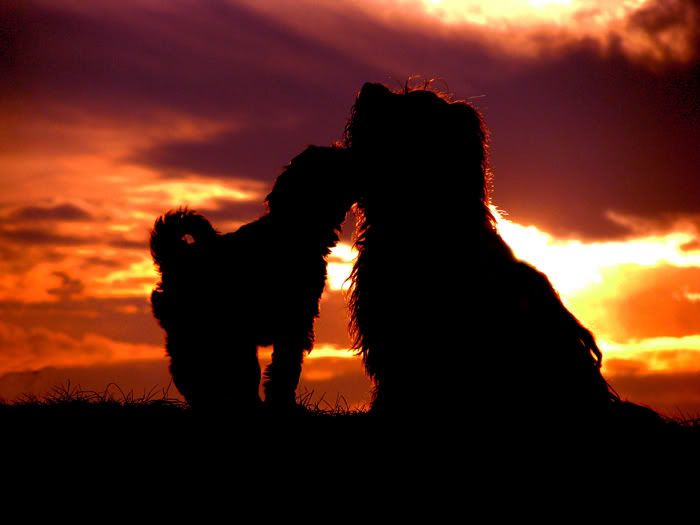 And I will post the promised photos of my cousins soon!!! ooo and tomorrow I will have my first ever shooting with foreign children. I'm soo excited and I'm really afraid I will do everything wrong...waaa... Hope I can sleep tonight ;)
Wish you all a nice evening and happy easter!!!