Hallo zusammen!!!
So jetzt melde ich mich endlich mit den versprochenen, neuen Hundefotos. Vor zwei Wochen ungefähr durfte ich das hübsche und lebhafte Australian Shepherd Mädchen Pepper fotografieren. Sie ist ein Jahr alt, total lieb und hört schon sehr gut. Es hat mir soo viel Spass gemacht sie zu fotografieren. Daher gibt es jetzt eine kleine Bilderflut :)
~~~~~~~~~~~~~~~~
Hello all together!!!
Finally here I am to show you the promised, new doggie photos. About two weeks ago I was allowed to take photos of an amazing Australian Shepherd girl called Pepper. She's one year old and really adorable. I had so much fun taking photos of her. And because of this I have little photo flood for you ;)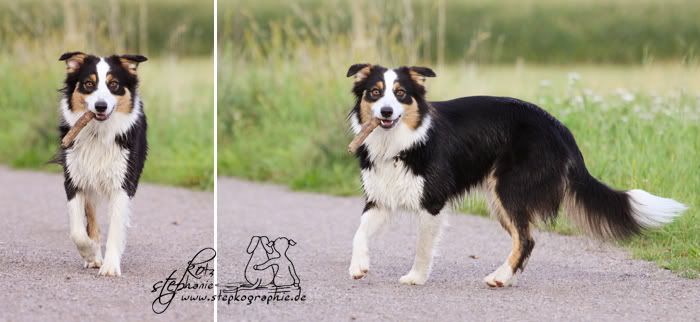 Das wars auch schon wieder von mir. Ich habe aber auch noch andere Fotos, die darauf warten gezeigt werden ;)
Ein schönes Wochenende euch allen!!!
~~~~~~~~~~~~
That's it. I also have other photos to show, I hope I will be able to post them soon :)
Have a great weekend!!!