Hallo zusammen!!!
Ich dachte, ich melde mich mal wieder :) Bin zur Zeit irgendwie mit allem und nichts beschäftigt, wenn das irgendwie einen Sinn ergibt.
Auf jeden Fall "hüte" ich im Moment die Katze meiner Nachbarin, die Momo. Dass heißt, ich geb ihr Futter und Streicheleinheiten :) Gestern war ich etwas länger hinterm Haus und da kam Momo natürlich gleich und wollte gestreichelt werden. Da die Sonne so schön schien, bin ich schnell in die Wohnung geflizt und habe meine Kamera geholt. So konnte ich mich mal wieder an Katzenfotos versuchen. Das ist soo viel schwerer als Hundefotos, denn die machen zumindest in 70-80% der Fälle, was man ihnen sagt ;) Momo ist inzwischen stocktaub und hat sowieso nicht im Traum daran gedacht, irgendwie kooperativ zu sein...jaja :) Dennoch sind ein paar Fotos entstanden, wie findet ihr sie?
Hab mich auch mal an schwarz-weiß Fotos probiert...ich liebe ja sw Fotos, aber wenn ich bei meinen eigenen die Wahl zu Farbe habe, wähle ich immer Farbe ;) Heute mal ein Experiment, ist es geglückt oder ein Flop?
~~~~~~~~~~~~~~~~
Hiii!!!
Here I am again with some new photos for you. At the moment I'm looking for my neighbour's cat Momo. She's so lovely and I know her since she was a little kitty :)
Yesterday I was behind the house and Momo came immediately to be caressed. As the light was amazing, I ran into our flat and took my camera with me. So I could practise to photograph a cat. It was so much more difficult than taking photos of dogs, because most of the dogs do, what you want them to do. Cats don't do something like this, they do what they want. Furthermore Momo is deaf and so I couldn't get her attention with doing some crazy noises. But I managed to take some photos of her...what do you think?
I always love black and white photos, when I see them in internet, but didn't try to do some on my own so often. Because if I have the choice of color and bw, I always choose color. But this time I tried to experiment with bw :) Failed my experiment or was it a sucess?
my favorite photo ♥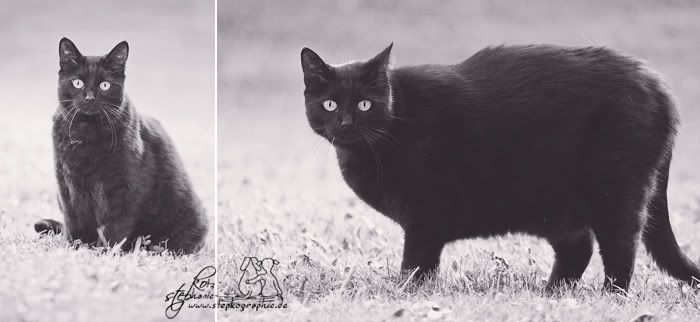 Ein schönes Wochenende euch allen!!!
~~~~~~~~~~~~~
Have a great weekend!!!